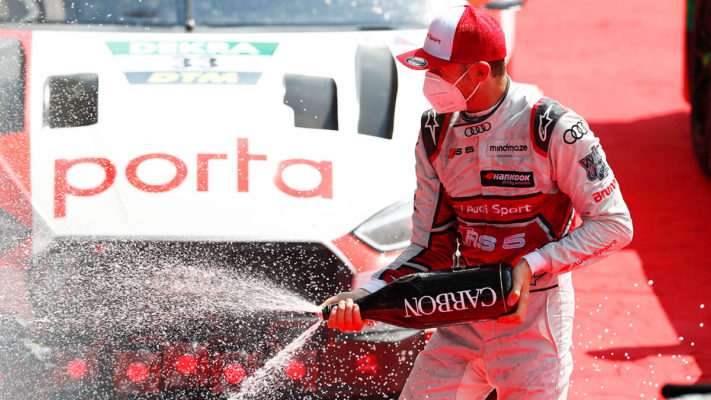 Champion René Rast wins on Sunday, Müller just behind in second place
Entertaining racing until the finish line in the DTM's season-opening weekend
Audi dominates with lock-outs of the top five on Saturday and Sunday
A grand finale on the closing lap: René Rast has won the DTM race at Spa-Francorchamps on Sunday and therefore got a successful rematch for the race on Saturday. While his fellow Audi driver Nico Müller (SUI) forged his way past the champion with spirited moves at 'Eau Rouge' and 'Raidillon' on Saturday, it was Rast on Sunday who made the decisive move against Müller at the end of the long 'Kemmel straight'. Müller stayed right behind Rast until the finish line, but eventually had to admit defeat, finishing 0.483 seconds down. Robin Frijns (NED) completed another dream result for Audi after having secured his maiden pole position in the DTM on Saturday.
A muted start for BMW: Sheldon van der Linde as the best of the brand in sixth place
BMW has some home work from Spa-Francorchamps for the next double header at the Lausitzring. The best-placed driver from the Munich-based brand was Sheldon van der Linde (RSA) in sixth place. Finishing in eighth to tenth place in that order, Lucas Auer (AUT), Jonathan Aberdein (RSA) and Marco Wittmann also crossed the line in point-scoring
» Quotes – race 2, Spa-Francorchamps
"A thrilling second race in which the battle for victory lasted until the final lap. That is exactly the way it should be. With two deserved winners this weekend who were also the top drivers last year already. Robin Frijns made a good impression, too. This weekend, the tyre situation also had its effect, particularly in the hot conditions on Saturday, but that is also part of motorsport. The only thing I still would have wished for is for BMW to be more on a par with Audi. This weekend, they clearly weren't. I hope that BMW will be doing its homework until the next race in such a way that they can also play a role in the battle for victory. Other than that, it was a successful weekend."
Gerhard Berger, Chairman ITR e. V.
"It was a very demanding race. I had a very good start, the car was much better than yesterday. Nico was very strong in his first stint and so was Robin. In the second stint, I was on the same pace as Nico and I could pass him. I knew that he would make an attempt on the final lap and I prepared accordingly. It wasn't a perfect weekend, but the best thing is that we saw what wasn't optimal yesterday. We changed it and it worked."
René Rast, Audi, winner
"I kind of feel that I could have won today's race as well. René was very smart, the way he played it on the final lap. I thought that his defending move would come earlier, so both of my overtaking tools were gone and wasted. René used all his experience today. He deserved this win, but I would have deserved it as well. Our pace was very good, the boys have given me a very good car. Robin has also been extremely strong all weekend, I am sure we will see many drivers in the mix during the season. We just hope we can keep our momentum going."
Nico Müller, Audi, 2nd place
"Yesterday, my first pole was really satisfying and I was very happy with my lap in today's qualifying as well. My start wasn't very good, I was third. I was trying to save my tyre and I made the call to stay out long because I felt very comfortable in the car. After the tyre change, I was closing up on Nico and René. I probably would have needed a few more laps to catch them."
Robin Frijns, Audi, third place
» Results – race 2, Spa-Francorchamps
01. René Rast (GER), Audi, 26 laps in 57m 17.254s
02. Nico Müller (GBR), Audi, + 0.483s
03. Robin Frijns (NED), Audi, + 5.393s
04. Jamie Green (GBR), Audi, + 11.080s
05. Mike Rockenfeller (GER), Audi, + 23.435s
Fastest lap: René Rast (GER), Audi RS 5 DTM, 2m 08.715s
Pole position: René Rast (GER), Audi RS 5 DTM, 2m 04.199s
Weather conditions: 20°C, sunshine
Circuit conditions: 25–27°C, dry surface