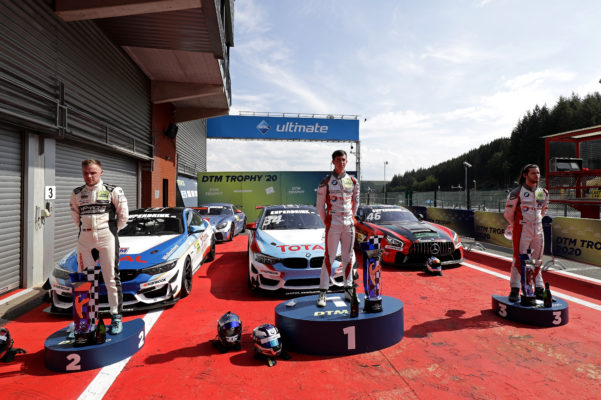 Lights-to-flag victory for the Walkenhorst Motorsport driver
Tim Heinemann and Max Koebolt round out the top three
Successful debut of the DTM Trophy at Spa-Francorchamps
With an undisputed lights-to-flag victory, British driver Ben Tuck dominated proceedings in the inaugural race of the DTM Trophy at the Spa-Francorchamps circuit behind the wheel of the Walkenhorst Motorsport BMW M4. With fastest time in free practice, pole position and his race win, Tuck had an almost perfect day in the Belgian Ardennes. Second place in the 30-minute race went to Tim Heinemann with the HP Racing International Mercedes-AMG. Dutchman Max Koebolt, Ben Tuck's teammate at Walkenhorst Motorsport, secured third place.
In excellent summer weather, the participants in the debut of the DTM Trophy shone with motorsport at its best at one of the world's most famous race circuits. Ben Tuck started from pole position and made the most of his excellent situation: after the rolling start, he led the field into the hairpin at La Source. Behind him, meanwhile, there was turmoil: Heinemann dropped back to fourth behind Kisiel and Koebolt after a rather mediocre getaway. At the Kemmel straight, however, he moved back up into second as Kisiel briefly came off the track and then slightly tangled with Koebolt.
Out in front, Tuck dominated proceedings in a commanding way and was first across the line after twelve laps. Heinemann wasn't in a position to mount a challenge for first place, but was rather happy with his second-place finish while Koebolt managed to bring third place home in spite of damage to his car following the collision. Jan Kisiel came fourth with the Leipert Motorsport Mercedes, Felix Hirsiger was the best-placed Junior driver, fifth overall with the Allied Racing Porsche.
Qualifying: pole position for Ben Tuck
Having already posted the fastest time in free practice on a drying track earlier in the morning, Walkenhorst Motorsport BMW driver Ben Tuck came out on top in qualifying with a fastest time of 2m31.823s around the 7.004 kilometres long Spa-Francorchamps circuit. He toppled Tim Heinemann, who had been on top of the timing screens for a long time with his HP Racing Mercedes-AMG. BMW and Mercedes drivers also shared the positions on the second row of the grid with Max Koebolt third-fastest in the other Walkenhorst M4 and Jan Kisiel fourth with his Leipert Motorsport-Mercedes. Fifth-fastest in the Allied Racing Porsche, Felix Hirsiger not only made it three different brands in the top five on the grid, but also was the fastest junior driver.
"My team Walkenhorst has simply been doing a great job all day long. It was down to me to make the best out of it, which, thankfully, I did. At the beginning, I had a duel with Jan Kisiel that was a bit tricky. After that, it was all about keeping my opponents at bay. Thanks to the help I got from Jörg Müller, I managed t do so pretty well."
Ben Tuck, Walkenhorst Motorsport
"I am really happy. The top three was my goal. Yes, winning would have been nice, too, but I lost time at the beginning of the race and managing the tyres was a bit difficult today because of the heat. I didn't have any chance of victory, so I am also happy with second pace. Thanks to the team of the DTM Trophy, from my point of view, the 'balance of performance' is successful. On top of that, my team gave me a good car."
Tim Heinemann, HP Racing International
"My start was good. At the top of 'Raidillon' there was some contact. After that, the car wasn't perfect anymore. However, I was still able to follow the top guys quite well. All in all, it was a great day, also for the DTM Trophy itself. I am already looking forward to tomorrow."
Max Koebolt, Walkenhorst Motorsport