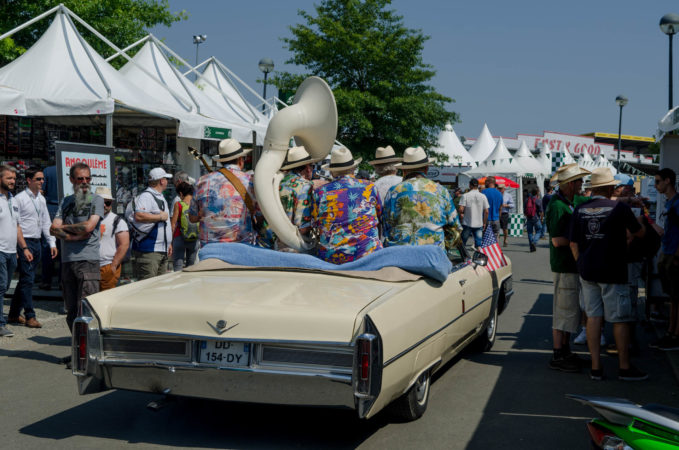 The 10th Le Mans Classic, which takes place this weekend, will be more than ever an extraordinary live show.
When you go to Le Mans Classic, you go first to contemplate the beauty and the performance of the exceptional cars taking part. You also go there for its festive atmosphere, a lively reproduction of the 24 Hours of Le Mans and endurance races' best years. Experts or onlookers, everyone will find their pleasure and their source of inspiration.
The exhibitor villages, of which there are 7, will allow you to live an incredible immersive experience. Remember that in this great celebration of the automobile, everyone has a role to play! A dress code is proposed, or even imposed, on this occasion. The magnificent Vicomte. A shops, cleverly arranged, will be happy to give you a makeover in the purest "sport-chic" tradition.
Within these villages, many other automobile players will be present. Exhibitions of old cars or new models by prestigious brands, concerts, shows, stands with an undeniably "retro" atmosphere and festive parades will be a lot. At night, as well as in the sunshine, the circuit of Le Mans, its village and its various dedicated areas will be animated with a beating heart.
The track will not only be taken over by the competition cars! The members of the clubs will also take part in this excitement! But not only! Le Mans Classic 2022 will also put children on the track with Little Big Mans! Almost a hundred of them will take a "Le Mans" type start to run towards their little cars, real works of art and reproductions of existing models. First track discovery laps on the legendary 13.626 km-layout will also give a great thrill to those who were able to register in time…
Of course, we can't forget the Artcurial auction, where collectors from all over the world, as well as onlookers, flock with enthusiasm. This year, more than 140 cars will be on sale, as well as some very rare and exclusive collector's items!
Finally, you will be able to relax, headphones on and in a comfortable deckchair, to see or re-watch a selection of "mind-blowing " films thanks to the Le Mans Classic Drive-in!