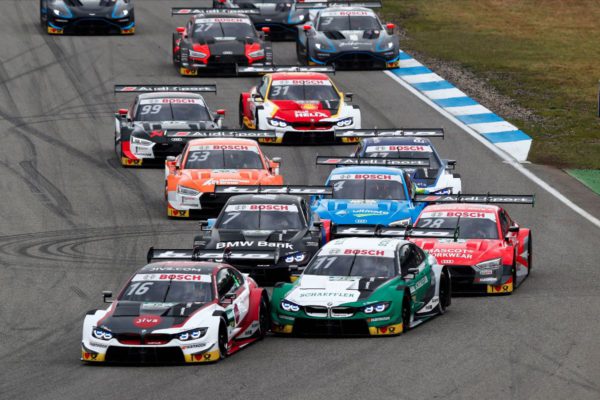 High-speed circuit a challenge for drivers and cars
Legendary F1 venue maintains DTM's pan-European flavour
Gerhard Berger: "One of the world's most exciting racetracks"
The DTM has reached an agreement with the management of the Autodromo Nazionale Monza to hold a round of the 2020 series at the legendary Italian racetrack.
The announcement was made ahead of this weekend's 84th running of Italian Grand Prix at the Milanese venue, which is situated in historic parkland to the north of the city. The track, one of the oldest and most storied in Europe, has hosted Formula 1 since the world championship began back in 1950 – with just one sole exception, in 1980.
Its characteristic high-speed nature – the circuit comprises three long straights and only a handful of corners – will make it a unique challenge for DTM's drivers and manufacturers, with top-speeds expected to be the highest of the whole season, exceeding 295kph (183mph). The 5.793 km track is also expected to feature the most full-throttle running per lap of any circuit on the 2020 DTM calendar.
ITR Chairman Gerhard Berger said:
"For motorsport fans all over the world, Monza is legendary. The characteristics of the circuit promise wheel-to-wheel duels at high speeds as well as good opportunities for overtaking."
The former grand prix driver achieved one of his most notable F1 victories at Monza back in 1988, when he notched up Ferrari's sole win of the season amid a year-long dominance of the sport by McLaren-Honda.
Monza to become fourth Italian venue in DTM history
The addition of Monza will make it the fourth Italian venue to host a round of the DTM. The series migrated to Mugello between 1994 and '96, and then again in 2007 and '08; visited Adria Raceway in 2003, '04 and '10; most recently, it made a comeback at Misano's World Circuit Marco Simoncelli on the Adriatic coast, in 2018 and '19.
ITR's Managing Director Achim Kostron added:
"For our three key automotive brands – Aston Martin, Audi and BMW – Italy is a hugely important market. We're grateful to everyone at Misano for having been a fantastic partner during DTM's return to Italy over the past two years. For our next step, we want to further increase awareness of DTM in Italy; racing at the country's most famous racetrack, combined with the surrounding Milan metropolitan area, will help us achieve that."
The precise date of the Monza DTM race weekend, along with the full schedule for next year's DTM series, will be announced in October.
Pietro Benvenuti, General Manager Autodromo Nazionale Monza said:
"This is the first time that DTM will race at Monza – we're proud to host a round of this series. These races, backed by an important organisation, will allow us to further develop the potential of our circuit. We plan to create an event for the audience not solely limited to motorsport, but something that will involve fans in an unprecedented experience."