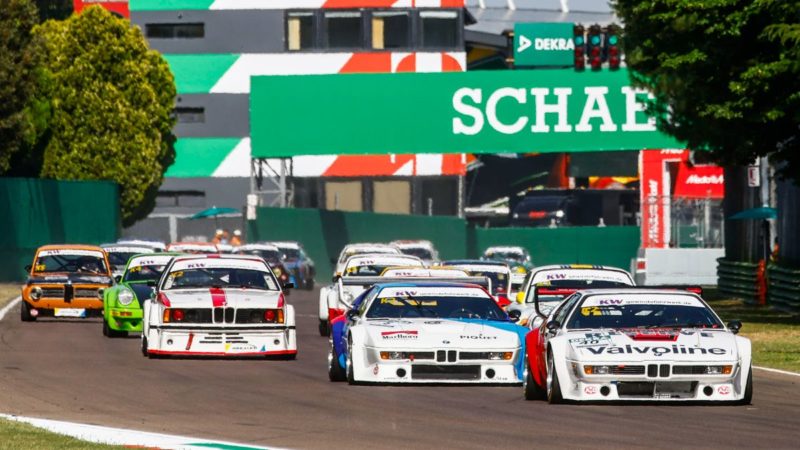 50 years after the launch of the Deutsche Rennsport-Meisterschaft in 1972, DRM has celebrated a successful renaissance. During the premiere of the DTM Classic DRM Cup at Imola, the much-admired automotive treasures put on a great show in spite of the enormous heat with temperatures of well over 30 degrees. Victory went to the legendary Ford Zakspeed Capri Turbo driven by Peter Mücke from Berlin. Swiss Michael Kammermann and German Ronny Scheer, both driving one of the noble BMW M1 Procars.
"Being allowed to drive these cars is a privilege. It is simply just fun," the 75-year-old BWT Mücke Motorsport team principal described, visibly having enjoyed every single lap. For Peter Mücke, it was touching that it was reigning DTM champion Maximilian Götz who presented him with the winner's trophy. "I had never expected to be given a winner's trophy by my former protégé one day." For Michael Kammermann, the joy of driving was the main thing, too: "Driving the M1 is a dream. Of course, it was pretty hot in the cockpit, but during the race, I didn't notice it that much," said the Swiss, who was busy throughout the race to nurse his BMW M1 Procar as much as he could and to carry it around the kerbstones to avoid any risk of damage. All the drivers also enjoyed the demanding track of the long-standing Autodromo Enzo e Dino Ferrari in the Emilia-Romagna region. "It is a beautiful track," Ronny Scheer commented.
Dutchman Donald Molenaar with the rare Alfa Romeo Montreal Group 4 and Jürgen Adi Schumann (GER) with the BMW 635 CSi unfortunately collided on the opening lap. From the front row of the grid, Kammermann had initially taken the lead from Michael Hess (GER) with the Porsche Carrera RSR, until Scheer made it a 1-2 for the timelessly beautiful M1s. Further down in the field, however, Peter Mücke was charging to the fore, having lost his pole position due to a flag infringement and having had to start from eleventh position. On lap four already, Mücke took the lead and expanded it more and more. "When I was briefly off the track at Acqua Minerali, I backed off a bit." Eventually, however, Mücke won with a considerable margin.
Next to the Zakspeed Capri, the car with which Klaus Ludwig won the 1981 DRM title, and the two M1s, numerous Porsches, Alfa Romeos and further BMW models ensured there was plenty of variety in the field. The best-placed Porsche driver was Michael Hess in fourth from his fellow Porsche driver Hans-Ulrich Kainzinger (GER). The second race gets underway on Sunday at 4.15pm CEST and is broadcast live on the DTM Grid streaming platform (grid.dtm.com).