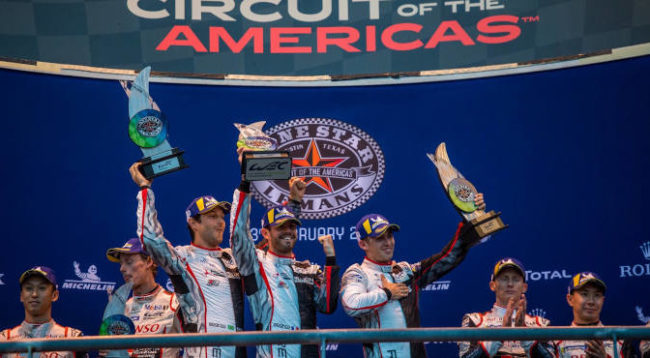 For this first race of the year, REBELLION Racing was keen to start 2020 in the best possible way. It was done in free practice with the best lap times of both sessions. During the second free practice, a break engine forced the car to stop completely. The mechanics only had a few hours to repair the prototype. The REBELLION R-13 was able to take part in the qualifying session. Gustavo Menezes and Norman Nato thanked the work of the technicians by offering pole position.
Sunday, February 23ed, Bruno Senna was the first to start on the Lone Star Le Mans track from the first place on the starting grid. After 1:30 of racing, the Brazilian driver gave up his place as leader to Gustavo Menezes. The Rebells gradually widened the gap with the Toyota Hybrid cars. Norman Nato took the wheel at mid-race. Leaving the pit lane P2, he took the lead fifteen minutes later. Gustavo Menezes returned to the track at 4:30 race. After a final pit stop, the American lost first place 42 minutes from the checkered flag. He finally took it back ten minutes later and crossed the finish line as a winner.
Thanks to an excellent strategy and powerful stints, the race was mastered from start to finish by the Rebells.
After a historic first victory in Shanghai this season, Team REBELLION Racing demonstrated its qualities as a professional team by winning a second race of the World Endurance Championship in LMP1 category. Now 33 points behind the leader Toyota Gazoo Racing and remaining three races including the 24 Hours of Le Mans,
REBELLION Racing has never been so close to its ultimate goal. REBELLION Racing will end its American journey on March 20th at the 1000 Miles of Sebring.
"We are very proud of this victory due to the team's strategy and perfect work. The race went well. Winning this race after our announcement of the end of our motorsport program allows us to prove once again that we are a serious, disciplined and professional Team. Congratulations to each member of REBELLION Racing!"
Alexandre Pesci, President and Owner of REBELLION Racing
"Happy weekend for us! Fastest lap, pole position and race win, it could not been better. The Team did a great job to get the car back on track the qualifying session. There was no mistake and a perfect strategy. All we have to do is celebrate and hopefully we can fight again at Sebring!"
Bruno Senna, R-13 N. 1 driver
"Incredible weekend! Honestly, big thanks to all the boys in REBELLION, my teammates Norman and Bruno and all the mechanics that gave us a perfect car for the qualifying session and the race. we could not did better this weekend with the fastest lap in each sessions, the pole position and race win. It is my home race and I could not been prouder. I have raced in Austin three times for three victories. Now moving on, we have Sebring, Spa and Le Mans. We are not forgetting that we have a lot of work to do for the coming races."
Gustavo Menezes, R-13 N. 1 driver
"It was a good weekend in Austin! It was the first for me here and I couldn't have hoped for better. We achieved the pole position even if our engine had broken a few hours earlier. The team did an incredible job on the car. We thanked in the best way with this result. The race went very well, we all had a faultless one. After two months and a half off, it is never easy to get everything done perfectly but Austin has so far been our best weekend of the season. Thanks to the whole team !"
Norman Nato, R-13 N. 1 driver
Results and chronos
Free practice 1 – P1 (1:49.957)
Free practice 2 – P1 (1:48.804)
Qualifying session – P1 (1:47.530)
Race – P1 (1:49.503)
Classification – Lone Star Le Mans
1. REBELLION Racing N.1 (1:49.503)
B. Senna, G. Menezes, N. Nato
Toyota Gazoo Racing N.8 (1:50.589)
S. Buemi, K. Nakajima, B. Hartley
Toyota Gazoo Racing N.7 (1:51.970)
M. Conway, K. Kobayashi, J. Lopez