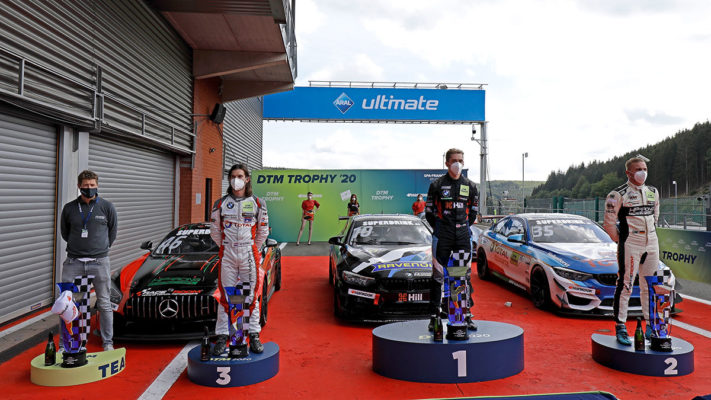 British BMW driver makes up for retirement on previous day with victory
Pole position, second place and points' lead for Tim Heinemann
Spirited battles throughout the field excite motorsport fans
The second race of the new DTM Trophy at the legendary Spa-Francorchamps circuit in the Belgian Ardennes showed racing at its best. British driver Ben Green, very disappointed after his retirement on the previous day, made up for it on Sunday by securing his maiden victory with the BMW M4 run by the FK Performance Motorsport team. Like on Saturday already, Tim Heinemann finished second, the German having stared from pole position. After two of this season's twelve races, the Mercedes-AMG driver of the HP Racing International team is now also leading the drivers' standings. The driver in third place was a recidivist, too: Dutchman Max Koebolt with the Walkenhorst Motorsport BMW.
There was already turmoil even before the start as technical issues prevented Spaniard Marc de Fulgencio from taking his third place on the grid. He had to start the race from the pit lane as a result. At the rolling start, pole sitter Tim Heinemann took the lead from a trio of BMW drivers with Ben Green, Max Koebolt and Ben Tuck. On lap two, the safety car was deployed after Dutchman Kelvin Snoeks had crashed his Racing One Audi into the barriers at Blanchimont.
Racing resumed on lap five. Initially, Heinemann was able to hold on to his lead, but later on the lap, he made a slight error that allowed the charging Ben Green to overtake. Green then drove an undisputed victory home while Heinemann secured second place for the second consecutive time. Third place went to Max Koebolt. For ex-DTM professional Peter Terting, who had also retired on the previous day, fourth place was a reward for a strong race performance. Further down the field, there were many entertaining position fights, too, among others for ninth to eleventh place with Marc de Fulgencio, Lucas Mauron and Jan Philipp Springob as well as for twelfth to 14th position featuring Rudolf Rhyn, Fidel Leib and Felix Von der Laden.
» Quotes
"For me, today's victory is a conciliatory end of the weekend and good preparation for the future, of course. Today, I had excellent grip at 'Eau Rouge' and 'Blanchimont' and was able to overtake Tim Heinemann as a result. He was super fair in the duel. That is exactly what racing should be like."
Ben Green, FK Performance Motorsport
"Of course, when starting from pole position, you also want to win. But I am super happy with second place. A pair of podium finishes in the first event of the season is a good result. In today's race, Ben Green put me under a lot of pressure. At the restart, I held on to my position, but then I made a slight mistake and Ben was able to overtake. Still, I think it was fair and nice racing."
Tim Heinemann, HP Racing International
"The entire weekend was good for me. Today, I made the mistake of trying to save my tyres for too long. A big hand to the DTM Trophy team that has really established a great race series. The sprint races with one driver only are great. And, of course, being a part of the DTM weekend is the highlight."
Max Koebolt, Walkenhorst Motorsport