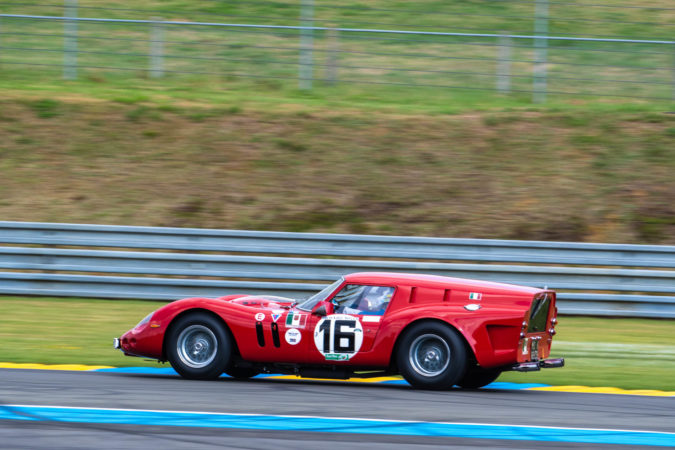 Ferrai 250 GT "Breadvan" – Copyright : ACO
Martin Halusa's Ferrari 250 GT Breadvan made its first appearance in 1962 at Le Mans. What a shape! What extravagance! And why Breadvan? The story goes that an English journalist nicknamed it that way because of the shape giving it the appearance of a "bakery van".
To understand the origin of this Ferrari, it is important to know the reason why: a conflict between Enzo Ferrari's wife, Laura Domenica, and a handful of Maranello's engineers. But not just any engineers, we talk about Carlo Chiti, Scuderia's technical director of the, Romolo Tavoni, sporting director and … Giotto Bizzarrini!
The three of them left to found ATS (Automobili Turismo e Sport). To finance the project, they appeal to Count Volpi, owner of the Scuderia Serenissima and a loyal Ferrari customer. Infuriated, the Commendatore refused to deliver the 2 GTOs ordered by the count. So, the deal was done: Bizzarrini would design a car from a Ferrari SWB and Drogo would dress it.
The car raced at Le Mans in 1962 where it had to retire in the fourth hour. One could think that this defeat would have sounded the death knell for the Breadvan, which was to be seen in a few races in 1962 and 1963 before ending up as Count Volpi's "everyday car"!
An eventful life followed for this car. Livery changes, impounded cars, tests by James Garner and Steve McQueen who finally did not buy it, and then repeated changes of ownership in the 70s and 80s when it was seen from time to time in historic races. In 2005, it was presented at Christie's auction but did not find any buyer. It then was sent back to Modena where it underwent a complete restoration to its 1962 Le Mans configuration.
In 2013, after a few more changes of hand, the Breadvan found its ideal owner in Martin Halusa, a lover of beautiful things and meticulous in their care. This has allowed this unique car to regain its right place in the world of classic cars, often participating -among others- in the events by Peter Auto such as Le Mans Classic where it was seen again in 2018, and at the Chantilly Arts & Elegance Richard Mille Concours in 2017.